Dear friends, we're very happy to announce we will have another Day of Mindfulness coming up, on Sunday, the 12th of November.
If you already know you have time and would like to support with facilitation please reach out to Dylan on Whatsapp or Signal so this can once again become a beautiful bouquet of different elements and voices 🌻🌺🌸🌼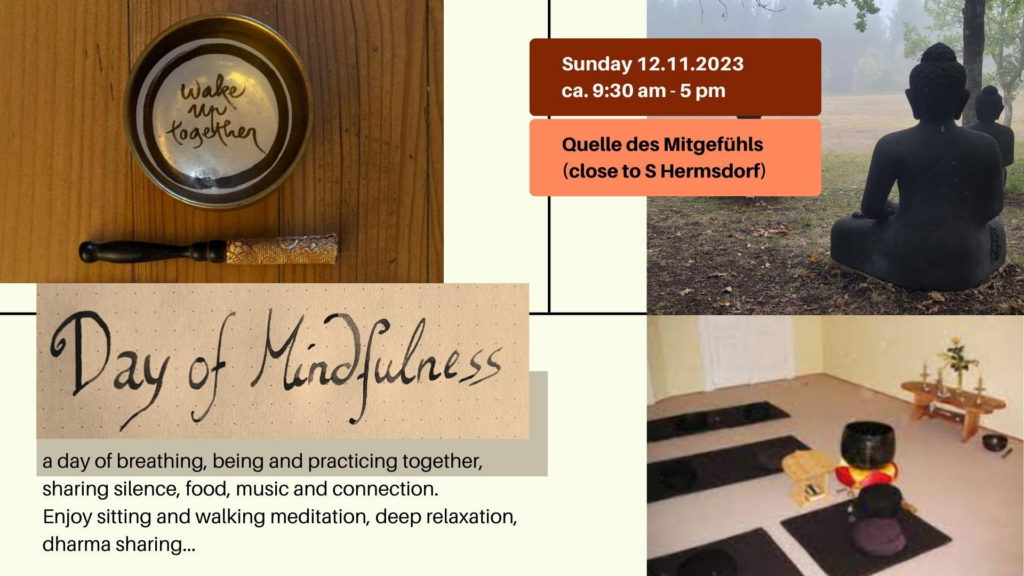 When?
Sunday 12.11., ca. 9:30 am until ca. 5 pm.
If you go by S-Bahn, the suggestion is to take the connection that arrives at S Hermsdorf at 9:15 to calmly arrive, get to know the space, enjoy a cup of tea…we will start the grounding at 9:45.

Where exactly?
Heidenheimer Str. 27, 13467 Berlin
Quelle des Mitgefühls (Source of compassion
The closest BVG options are S Hermsdorf (S1) and the bus station Drewitzer Straße (Bus 125 which goes from U6 station Alt-Tegel). Either station is about 5-10 min walking distance to the center.

What to expect?
We will have all our usual practice elements, with some extras 🙂
We'll also share lunch, have a deep relaxation, be singing together (maybe with guitar support?), take a walking meditation outside in the nearby forest… This is a draft schedule and as always, impermanence might happen 😉
Please take the chance to cultivate some morning calmness: Arrive in silence, have a look around, get a cup of tea and enjoy this shared practice of noble silence until after the grounding. We also invite you to give your mind some rest and reduce the use of electronic devices to a minimum.
What to bring?
Please bring some vegan* food to share for lunch. If you have food sensitivities or allergies (e.g. soy, nuts…) please let us know in advance so we can ask people to label their food accordingly.
(*out of respect for mother earth and the customs of the community whose house we are allowed to use)

We'd like to contribute to preservation of the beautiful place we get to use and we'll also have some small expenses for flowers, tea etc. The dàna recommendation for the day is 10€. Of course everyone is welcome and if this is not something you're comfortably able to give at this moment, please don't worry about it (some people might give more, we have some sangha savings – it will work out for sure).
Please bring some warm socks and/or slippers and maybe dress in layers as different parts of the house might be at different temperature. Please also be prepared for a walking meditation in the forest (shoes, rainjacket…)

Most importantly, please trust that you can bring your whole self. All feelings and states of mind are welcome and as a group we can hold a lot of happiness and suffering and everything in between and beyond.